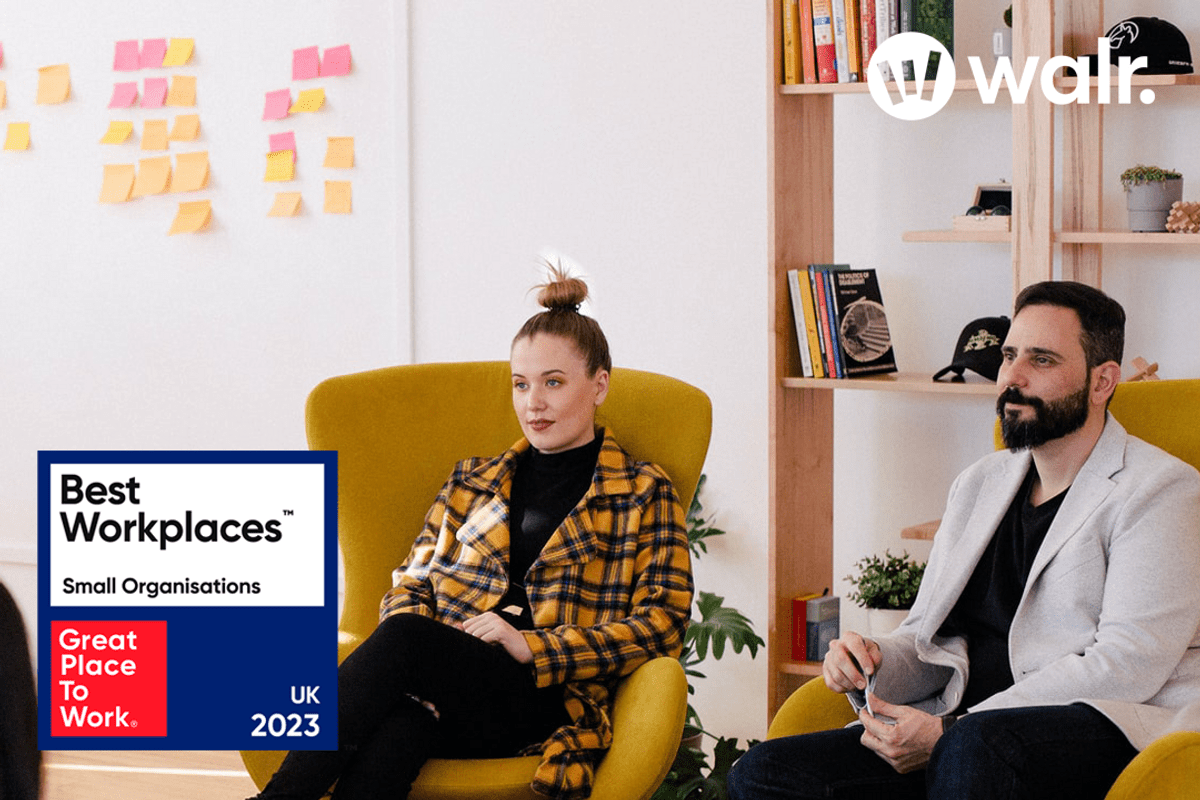 UK's Best Workplaces 2023™
We are dedicated to building a working environment that brings delight to all our employees. That's why we are proud to be certified as one of the UK's Best Workplaces!

According to our team, 98% of employees believe Walr is a great place to work. 100% believe everyone is treated fairly regardless of race, gender or age, and that management are approachable and easy to talk to.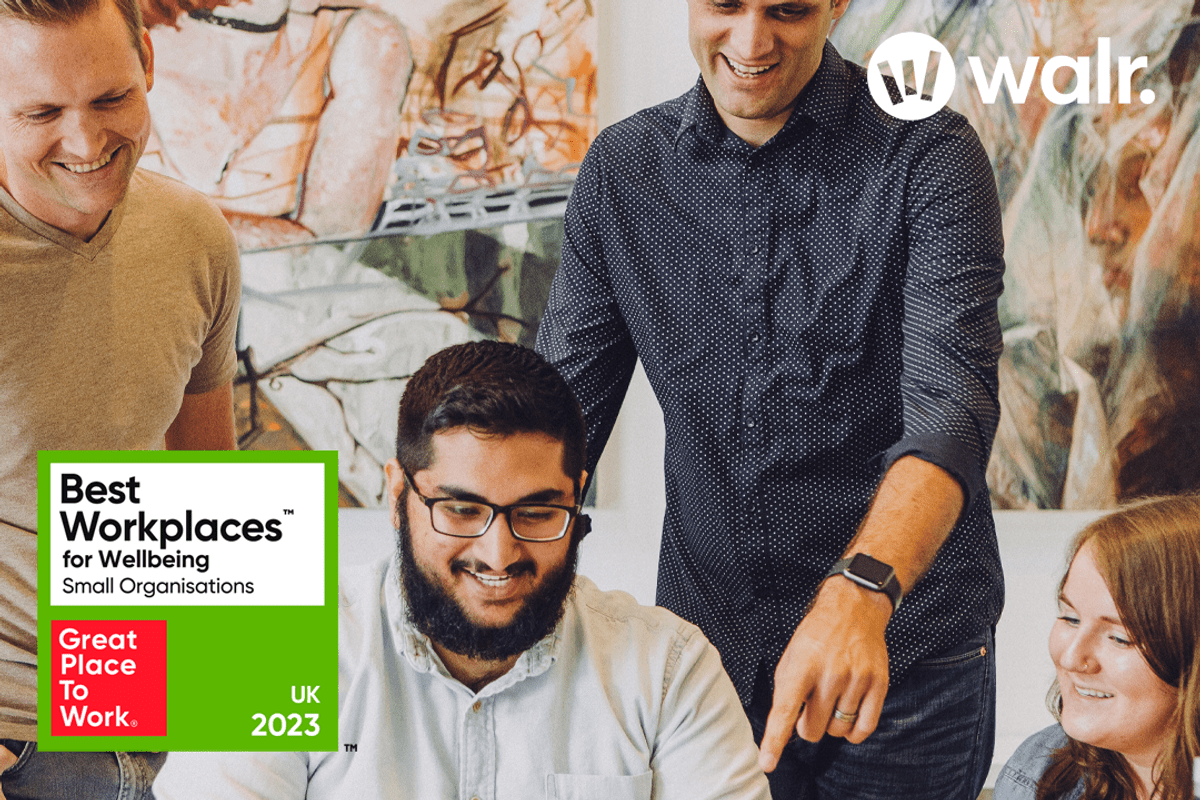 2023 UK's Best Workplaces for Wellbeing™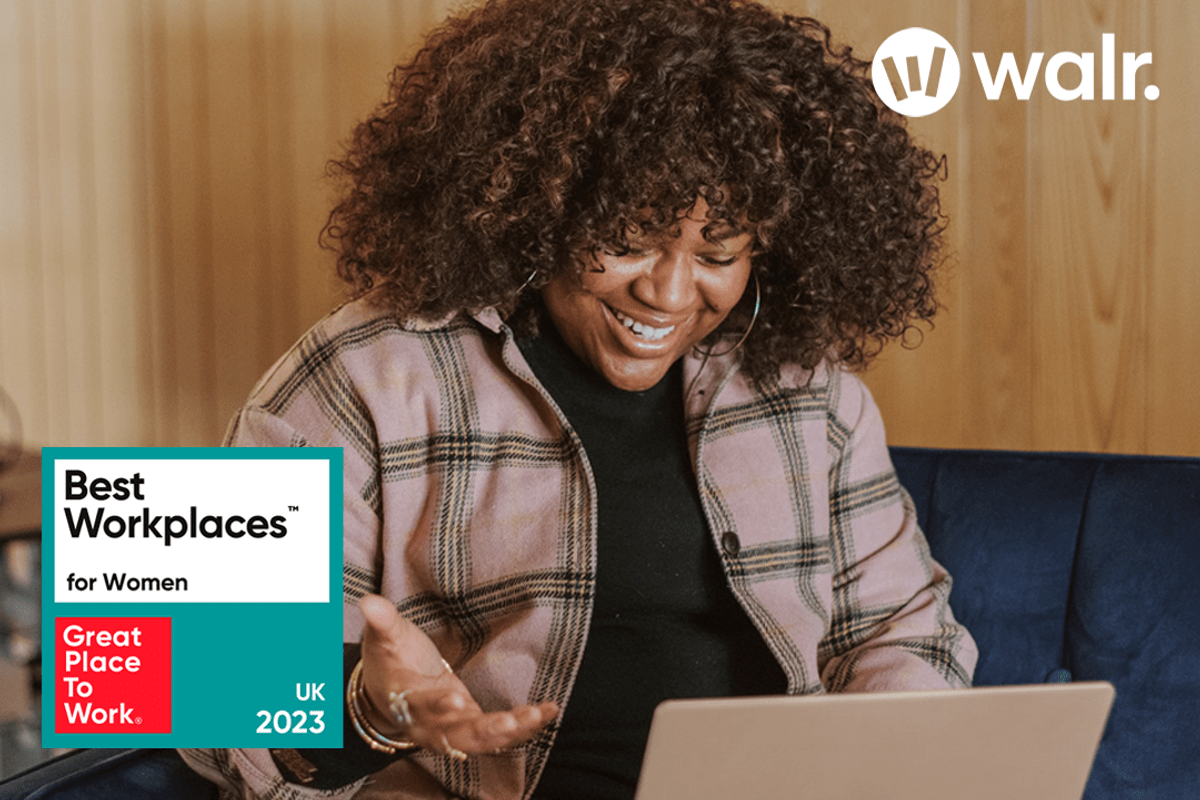 2023 UK's Best Workplaces for Women™
We are proud to also announce we are one of the UK's Best Workplaces for Women 2023.
These milestones are merely the beginning of our journey. We will continue to listen to our employees and identify ways we can improve our culture as we grow.
Our Story
Founded in October 2020, with the sole ethos of partnership, we wanted to provide a solution that played a key role in driving the success of our customers' businesses.
With over 400 years' collective experience in the sector, having acquired the research tech firm QuenchTec in 2021, we offer the research industry seamless data creation. Through one platform, customers can access an audience of millions and benefit from on-point data collection, analysis and reporting.
With our tailored data creation products underpinning our activities, research users are now fully empowered to focus on what makes them successful and drives their business forward.
What's it like to work here?
"Walr provides me with the opportunity to truly take my career in the direction I wish it to go. I am given trust, responsibility and support to pursue new ideas and ways of thinking. There is an environment of creativity and enthusiasm that I love and thrive in. I am motivated on a daily basis to push the boundaries and help the company achieve its ambitions."

"Walr's culture embodies the true definition of empowerment. The trust and belief we portray in each other makes it unique from other organizations. Work never feels like a chore. It is an activity that wonderfully gels with our personal lives thanks to having a proper work-life balance. The majority of my time is spent working with the Project Management and Operations teams and I always feel thrilled to come across new situations to help create a delightful client onboarding experience."

"At Walr, every employee loves sharing, helping, and lifting others to succeed. To support team members in all aspects of their lives, several members of the company's leadership team extend their mentorship beyond the workplace, helping not just the employee but the whole person."

"The communication and cooperation with colleagues across the globe make Walr truly unique. Walr also offers flexibility, allowing us the opportunity to decide where we want to work from; whether it's from the office, home or while traveling. I love that there is trust that enables me to decide from where, when and how I do my best work."

"One of the things I value most about working at Walr, is how approachable everyone is. Regardless of someone's position in the business, there is a real culture of collaboration and teamwork. As it is a remote-first organization, I have the opportunity to work with excellent, talented and friendly people from all around the world.

Every member of Walr is striving to build better products and services to deliver delight to our customers. This drive to continuously innovate means we have the opportunity to really grow as individuals."
Our Benefits
At Walr, we Delight Through Dedication. This is something we can only do with proper rest, which is why we give 30 days annual leave for our global team, in addition to public holidays. This includes your birthday off, 2 days to volunteer and 2 duvet days.

As a remote-first organization we embrace and promote flexibility. This is why you can work from anywhere in the world for 8 weeks of the year. You'll also receive a full tech set-up to ensure you have all the tools to succeed.

We are committed to being transparent about salary. We remain competitive through bi-annual salary benchmarking.

As one of our core pillars of culture, we celebrate community by voting for a Star of the Month, catering monthly team lunches and organizing dedicated team days to get to know your colleagues better.
We want every member of our team to Lead With Trust and Revel in Innovation, which is why we we prioritize feedback and learning through our performance initatives.

Your wellbeing matters. We have a dedicated wellbeing team, as well as private healthcare cover dependent on your home country.

In order for you to bring your best self to work, you need to have the support structure in place at home. This is why we offer competitive leave for all parents - birthing and non-birthing alike.
Any questions about working at Walr?
Are you interested in joining a team, not just a company? Do you enjoy the thrill of no two days being alike? Are you craving the clarity and autonomy to do your best work, flexibly? Then browse our open roles and apply today. We look forward to speaking with you!

If you are ready to apply to join our Walr team, we are thrilled! Simply browse our open roles, click 'apply now', and complete the application by submitting your CV. Someone from our recruitment team will be in touch with you to discuss the next steps. Our 3-stage interview process is designed to move quickly, while also giving you ample exposure to the Walr team.

All of the above. One of our values is that we lead with trust – and we mean it. We aim to set all employees up with the right equipment, channels of communication, and connection to community to empower them to do their best work, wherever that may be. We have core offices in London and Malmo, where people can choose to work a few days a week for collaboration and team building. Our other regions are remote-first.

Our Walr team is growing quickly and we prioritize a fun and thorough onboarding process to get you up to speed. A few weeks before your start date, you'll be invited to create your employee profile on our portal. On your first day, your manager will set a team lunch, share key resources and set KPIs for your introductory period. Your onboarding curriculum will be automated through our portal. Additionally, you'll meet your Walr buddy – there to answer any and all questions, and to help introduce you to your colleagues.

We are hiring for new roles all the time. If you don't see a role that suits your interests right now - click the Connect button to submit your CV and describe the roles you are keen on. Be sure to check back frequently for new vacancies that align with your skillset and career goals.
About Walr
We are a data creation partner unifying smart technology and thoughtful expertise to bring efficiency to online research.
With hundreds of years of combined experience in market research, working in a 24/7 customer-centric manner, our aim is to build extremely successful and trusted partnerships. In support of this ethos is our proprietary, cloud-based technology, which enables us to deliver delight at scale.
We are experts in data creation, so our customers don't have to be. Instead, they can spend more time creating value in the areas they excel most.
Already working at Walr?
Let's recruit together and find your next colleague.